Comment(s)
It's the spooky season and All Hallow's Eve is almost here! Halloween may look a little different this year, but a gift delivery can lift spirits and add a little extra brightness to the day. All of our gifts can be delivered right to their door, and we even offer overnight shipping. Our Halloween treats are ideal for kids and kids at heart. No trick or treating required!
Your classic favorites are back, as well as some fun new additions! We've ranked our top five gifts for Halloween. Read on if you dare…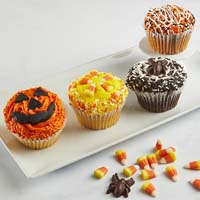 Get in the spooky spirit with a magical array of festive cupcakes! Treat yourself and your loved ones to a Halloween cupcake delivery. You won't know which to try first!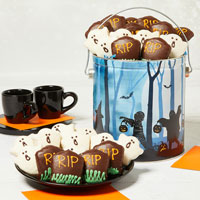 Your little pumpkins would be thrilled to find this at their door! This gift features a bewitching array of individually wrapped Halloween cookies, in a keepsake tin that will be enjoyed for years to come. Don't miss the chance to surprise your loved ones with a Halloween gift delivery!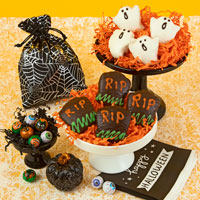 Celebrate the spookiest day of the year with a variety of ghoulishly good treats! Our decorated cookies aren't scary…only frightfully delicious! Our new Spooky Spider Tote is a winning gift to send this Halloween.
Almost too cute to eat, these tasty confections will put a spell on you! With bewitching decorations and classic flavors, these are what every trick-or-treater is hoping for this Halloween. Send cupcakes right to their door to bring out the smiles.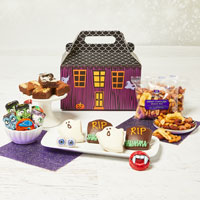 Sweet treats galore! No tricks here – these snacks are as sweet as can be. Brimming with Halloween cookies, decadent brownies and more, there's enough goodies for every ghost and goblin!
We'd like to wish everyone a safe and Happy Halloween!
To view all of our Halloween Gifts, check out https://www.bakemeawish.com/halloween-cakes.php