Comment(s)
It's so easy to have a sweet Easter gift delivered right to their door this Easter Sunday. All of our Bake Me A Wish! bakery gifts ship overnight, nationwide. Share in the joy of Easter with friends and family, even if you're miles away by preordering your special gift today for Easter weekend delivery!
Take a look at our top Easter gifts to send: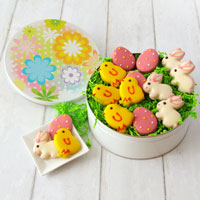 Hop to it! This assortment of delightful, festive cookies is sure to impress this Easter. These deliciously decorated bunnies, chicks and Easter egg cookies are almost too adorable to eat! Don't miss your chance to add a little sweetness to their holiday with a cookie delivery.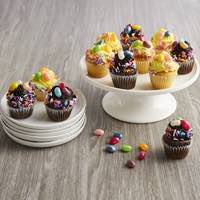 Send cupcakes to wow them this Easter! This set features one dozen vanilla and chocolate cupcakes adorned with yummy jellybeans - everyone's favorite Easter treat! For all your peeps, you can't go wrong with an Easter cupcake delivery.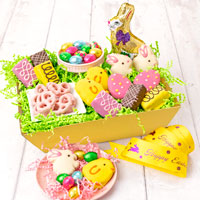 Presenting someone with an Easter basket is a treasured tradition. This year, have an Easter basket delivered to their door. We even ship overnight if you're looking for a last-minute Easter gift. This gift basket is brimming with cheery cookies and brownies that every bunny will enjoy.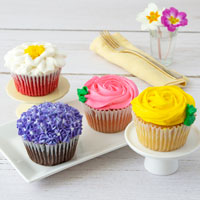 In bloom just in time for Easter, our new cupcake set is sure to amaze. With a stunningly beautiful presentation, these cupcakes are sure to be the highlight of their Easter celebration. When flowers aren't enough, be sure to have our JUMBO Flower Cupcakes delivered.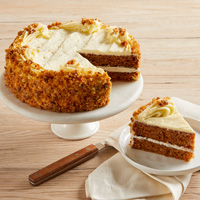 The Easter Bunny approves of this classic cake! A carrot cake is a timeless dessert to share on Easter Sunday. Even if you can't be with them to celebrate, sending a cake will make them feel loved. Loved ones near and far would be thrilled with an Easter cake delivery!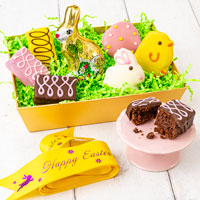 The hunt for the perfect Easter gift is over! For bunnies and chicks of every age, an Easter basket delivery never fails to bring out the smiles. They won't know which to try first! Sending a fun Easter gift would make their day that much more memorable.