Don't take our word for it! Bake Me A Wish! receives praise on its service from customers just like you! Read on!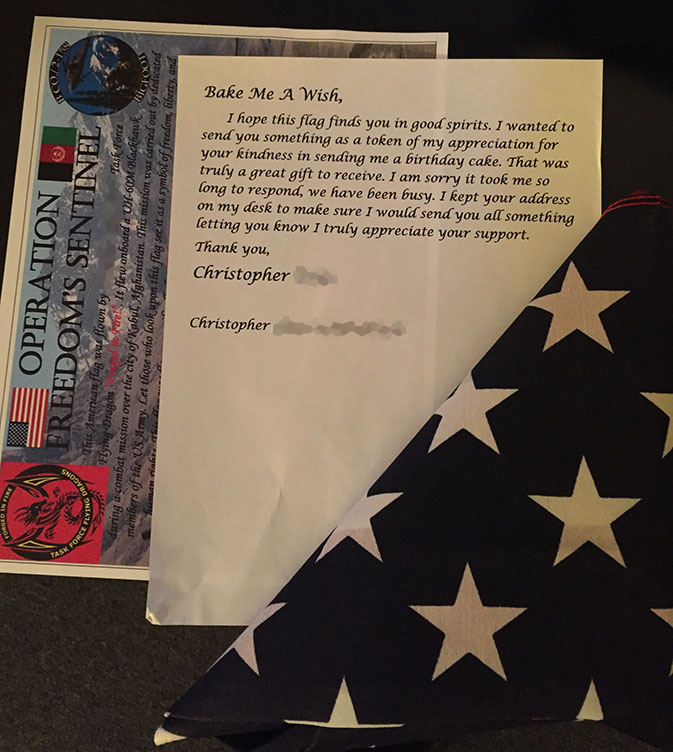 "I just have to tell you that the cake you sent to my mom for her birthday was FABULOUS!. She was very surprised and the cake was absolutely delicious. I will definitely recommend you to all of my friends who want to send cakes to their friends and relatives!! Thanks so Much."
"I would like to thank you very much for the excellent service and product you provide. I recently ordered a cake through your website for my husband who is deployed to Afghanistan. I found your website about 10 days before the actual date of my husband's birthday, hoping it wouldn't arrive too far after. To my delight, it arrived on the actual day! I am not certain if it was purposely or by chance, but it really meant a lot to me (and my husband, I'm sure) that he was able to receive this special surprise on his birthday. My husband emailed me after receiving the cake, saying how surprised he was and how loved he felt. He also told me that the cake was delicious and literally gone in minutes. In fact, none of the other soldiers had ever heard of your bakery and, soon after, went online to place orders themselves. :) Again, I just want to say THANK YOU for this special service you provide. I will definitely be telling my family and friends about you!!"
"Yesterday I received one of your Birthday cakes and WOW, talk about unexpected! I had no idea this was coming. My experience with cakes ranges from grocery store sheet cakes to Betty Crocker so this was an amazing treat. I shared it with everyone around and we all agreed it arrived moist and looking great. We've all received a few packages over here but never one that survived the trip except for this one, it was in great shape. On a serious note, it takes a special person and a special company to send cakes around the world to complete strangers like me. It really touched my heart knowing people I don't even know donated to and made this especially for me to celebrate my Birthday as a way of saying thank you. These are things I'll always remember, thank you, thank you so much. A special thanks to Josh Kaye, President at Bake Me a Wish and Carl Roach Jr, Miami, FL for helping my Birthday turn out pretty terrific (we don't have Birthday cakes over here), but I got one! You should have seen the looks on everyone's faces! "
"My brother raved about his Cake. It tasted great, and it was delivered early so that it was there in time for his surprise lunch party. Thank you very much."
"You are AWESOME! Thank you so much for helping me to make my very, very special soldier's birthday a very, very special occasion for him, and an early surprise, to boot! I ordered 2 of your lovely cakes for our son on March 15th, hoping they might arrive in time for his birthday on the 31st. I didn't plan to let him know about the cakes until just before his birthday, in case they were delivered after the 31st, but, to my pleasant surprise - and to HIS surprise - both cakes were delivered to him in Afghanistan on March 24th! He shared them with everyone in his "shop", and he said there was a piece for everyone, and the cakes were rich and delicious. I am very grateful to you, and I will recommend your company, your delicious cakes, and your exceptional service to everyone! Thanks. "
"Thank You so much for your professionalism. My Mom's birthday cake was delivered perfectly. I absolutely will use your wonderful and needed service again and will spread the word. Thank You also for being affordable. I am so very grateful to you. My Mother was so surprised and she kept telling me "That Made My Day!" I'm still thrilled. The cake had been left on her porch. It was there for 2 hours because she was napping. I tracked the cake because my Mother had not called me, so I called her and told her she had a package at her door -- she wanted to know how I knew this! The cake was STILL COLD AND FRESH. It was packaged SO WELL. I just wanted my Mom to have a birthday cake. Your Company provided a much needed service and it was done RIGHT. Wow. I live in California, and this seems to be all over (even in the health care industry), but it's not often that I experience companies running things RIGHT. Integrity and such in one's work ethics seem to be going in the direction of extinction, but not everyone or every company :). Thank You, Thank You, Thank You. Your Company restored something very positive for me. Please, keep up what you do. You're very good at it and when Families or Friends can't be together, this type service is a "Must" (and you do it RIGHT!). You're above excellence. WOW! "
"All my son wanted to celebrate his one year anniversary at his job was CAKE. Since I live several hours away, your company seemed the perfect solution. It was delivered to his work, fresh, beautiful, and (according to him) delicious. He has now requested the same for every occassion...and I mean EVERY. Thanks so much for meeting and exceeding all expectations. I will definitely be contacting you again."
"Just a few words to let you know how delighted my daughter was to get a birthday cake on her special day. The best part is how delicious she said it was! Being at college, she was able to share with friends and everyone wanted to know where the cake came from! The all agreed it was moist, beautiful and delicious. I will pass the word around to anyone I know who has a loved one far away - or close by too! "
"For my mother's birthday, I surprised her with the Vanilla Bean Cake due to reading some of the testimonials recommending that cake and vanilla being her favorite flavor. Not only did she like the surprise but she loved the beautiful box the cake came in and the taste of the cake. We live 5 states away and this was the best gift I've given her. All for a good cause too! "
"We ate the cake tonight - it was GREAT! The cake was moist, not too sweet and everyone loved it. I'm so amazed how you package the cake... I will be ordering again! "
"I would like to thank you for your excellent service, in helping answer my many inquiries (i never bought from the site and was not sure it would be perfect for my plan, which it was!) and for delivering a birthday cake to my boyfriend who is currently on deployment in Afghanistan. I am currently situated in Malaysia, so getting a cake sent out to Afghan is not something most bakeries would offer here. So, after going through your website which I found/read about in a mag/book before, I put in an order for a choc brownie cake in early March. I was quite concerned that the cake won't be delivered on time but your staff was very helpful and had patiently answered my many questions. I am glad to tell you that yesterday, my boyfriend received an award from the Latvian army for excellent service and when he returned to his office, he found the cake waiting for him! He was very excited and I am so happy he was very happy to receive it. He was quite impressed with the packaging as he said it is very well done and the cake is very delicious that he is considering not sharing it with his mates so he could eat it all! Thank you so much for such a great service - even though the cake is a week early, I am really happy he receives it and that it makes him happy to be able to have cake on his 30th birthday even though he is in a war zone and miles away from home. You can be sure i'll be using your service again in the future! Kudos and much love to all your staff!"
"I waited to send this email till my wife received the tiramisu cake I ordered so I could tell you how much and my kids and her liked it. They thought it was great, and my oldest actually ate almost half of it and was going for more before my wife stopped him."
"The 2007 Holiday season hit and I was searching for a fast and easy gift solution. The Bake Me A Wish! cakes were a huge hit and I was very impressed with the service and quality. I also love that some of the proceeds go to such deserving causes."
"My grandson turned one on October 13. I luckily found Bake Me A Wish, I want to tell everyone how wonderful this cake was. It was beautifully decorated and was hand delivered, On Time, and the day was so special. Thanks so much for making this important birthday such a happy one. I will definitely be a repeat customer."
"Thanks for everything, My family and friends were very surprised and they could not believe it was from me because Connecticut is across the country from Seattle but it all happened because of your help. Thanks again, it's been a pleasure making business with you. God bless and have a good day."
"This company is wonderful. My friend didn't tell me he was going out of town until the last minute -- but bakemeawish.com still managed to deliver the cake less then 24-hours after I called. Thanks again."
"Just wanted to say "Thanks" for the Birthday Cake I ordered for my daughter's 30th birthday! Much to her surprise, her cake was delivered on Friday and it turned out to be her favorite flavor, thanks for the recommendation on the Vanilla Bean. Thanks, I really appreciate your great service!"
"Just wanted to let you know my Mother was extremely pleased with her Birthday Cake delivered in Sarasota FL."
"Thank you so much. Just got a note that the Birthday cake I ordered from your site arrived in perfect condition. They loved it and said it was moist and delicious. It was hard to not eat it all at once! I've ordered from other sites and yours is the BEST! Also reasonably priced for such speedy service and such a quality product. I will definitely order again!"
"Arrived on time in spite of campus rules. My son was thrilled, and so was I. Thank you!"
"Just wanted to thank you for all your help with my order. My friend loved his cake and being away from home he said it made his day. From his description, I'm sorry I wasn't there to enjoy a taste of it myself because he kept going on about how good it was. I really appreciated your extra effort for me. You can bet I'll recommend you to friends and when I need another cake, you guys have my business. Thanks again."
"Hello! I had to send a huge THANK YOU, although I don't know if those words express my gratitude and excitement. My husband, on his first deployment to Afghanistan will be celebrating his 29th birthday this Thursday, 4/21/2011. I ordered him the Cookies & Cream "Happy Birthday" cake on 4/12/2011 and he received it TODAY, 4/19/2011. I was anticipating it to arrive about a week late and it was 2 days early! He absolutely loved the cake and so did the other guys in his unit! He said it was packaged beautifully, was in perfect condition and still cold when he received it! He said the cake was delicious and very moist! Thank you Bake Me A Wish! There isn't much we can do to celebrate our soldiers Birthdays and you made his day!"
"Wonderful cake, Beautifully decorated. A real bargain for the exceptional quality!"
"I want to express my sincere gratitude to everyone for my husband's birthday cake. He is working in Iraq, and has missed being with us for his birthdays. When he received his cake, he was so surprised. He said that it meant the world to him that as far away as he is, we would make sure that he had a birthday cake! He was truly touched(and my husband isn't a mushy guy). Again, THANK YOU, for giving us a way to show our loved ones that no matter how far away from us they are, we love them and always keep them close to our hearts."
"I'm just writing to let you know how much my daughter and our family enjoyed the Bake-Me-A-Wish Red Velvet Cake that I ordered from you last week. We had her birthday dinner last night and the cake was the final surprise. She loved it. Looked and tasted great and was just the right size since my family are not lovers of overly sweet things. Also I am so impressed with the service that I received. The cake arrived on time and was packaged so nicely - even with an icepack since it was coming to hot, hot Arizona. When the next occasion arises that calls for a cake I will certainly keep Bake-Me-A-Wish Cakes in mind. Thank you for your excellent customer service. "
"I just wanted to say thank you so much, yet that doesn't seem good enough. I ordered my husband's cake from you and delivery date was going to be for Dec 1st. I was so upset it wouldn't be there on his birthday on Nov 24, but I thought at least he'll get it right. Imagine my surprise when my husband e mails me on Nov 24 and says thank you for the cake and it was awesome. My husband is currently serving his fifth tour, second to Afghanistan, and third birthday there. I couldn't be with him this birthday, but I wanted him to have something that felt a bit from home. You made my day, and it is so appreciated for such a wonderful thing you are doing. It means a lot to them to get the cakes and feel remembered on their special day. It means more to those here at home who are limited on what we can do for their special day. Many thanks again!"
DOUBLE POINTS DAZE! Earn twice the points with each purchase you make now through the end of July! Save up to $25 on your gift!