Comment(s)
Dad deserves it all this Father's Day! Even if you can't see your dad in person, send him a cake or other treat to let him know you're thinking about him. We have a wide selection of gifts to choose from, such as our bestselling Chocolate Mousse Torte Cake or our Deluxe Sandwich Cookie Selection. From decadent brownie assortments to premium gift baskets, there's something for every father! We deliver nationwide, so you can celebrate him no matter where you are.
Father's Day is June 20th. Check out our top gifts to send Dad this year: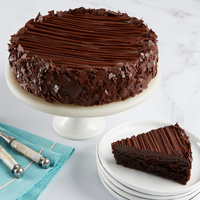 Triple Chocolate Enrobed Brownie Cake
For the fathers who love chocolate, you can't go wrong with this indulgent brownie cake. Satisfy their sweet tooth with a cake delivery. They'll ask for this sweet gift every year!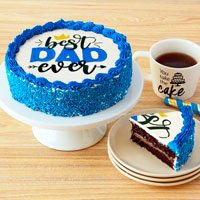 Cake Graphic ©2021 DecoPac, Inc.
He's the best dad, now send him the best cake! This celebratory chocolate confection has an edible message printed on top, so you can express your sentiments in a sweet way. This Father's Day, send him a gift he'll never forget!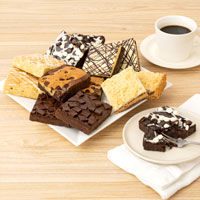 One Dozen Assorted JUMBO Brownies
The best way to celebrate Dad? With chocolate! A gourmet brownie delivery is sure to wow him. With flavors such as Peanut Butter Crunch and Fudge Walnut, this assortment will satisfy any sweet tooth.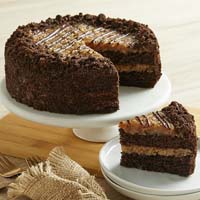 A unique cake for your one-of-a-kind father! A German Chocolate Cake bursting with coconut, pecans, and caramel is a rich indulgence that your dad deserves. He has done so much for you, now thank him by having a cake delivered right to his door.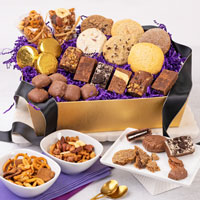 For the father who likes to snack, send a gourmet gift basket brimming with sweet and salty treats! This impressive basket has cookies, brownies and more to choose from. With this selection, your dad is sure to find a favorite treat to enjoy.