Comment(s)
Turkey Day is on the way! Thanksgiving is the perfect time to give thanks and celebrate with family and friends. Even if you can't be with them in person, let them know they're on your mind. Whether you're near or far, send a Thanksgiving gift to be part of their festivities! A Thanksgiving pie delivery can light up their holiday and make them feel special. Our pies and other premium gifts ship nationwide with an on-time guarantee. Don't miss your chance to send a sweet Thanksgiving dessert right to their door!
We've rounded up our picks for the best Thanksgiving gifts to send this year.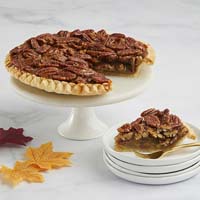 Pecan pies are a traditional Thanksgiving dessert! You can ship a pie to friends and family nationwide, no matter where you are. Be a part of their holiday and have a pie delivered right to their door.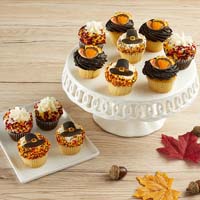 These delightful themed cupcakes are a unique Thanksgiving dessert, perfectly decorated with pilgrim hats and adorable turkeys. A Thanksgiving cupcake delivery will bring out the smiles this November! Send cupcakes to those you hold near and dear to your heart.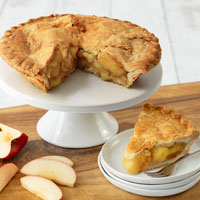 An apple pie is a classic Thanksgiving gift and a great addition to their dessert table. Send a pie for their Thanksgiving dessert – they'll be thankful you did!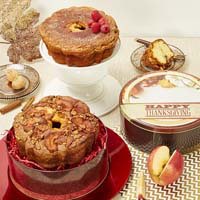 Viennese Coffee Cake in Thanksgiving Tin
Elegantly packaged in a festive keepsake tin, this moist coffee cake is unforgettable! They'll remember this heartfelt Thanksgiving dessert delivery for years to come.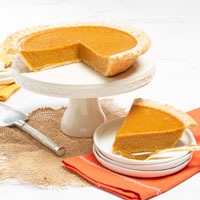 It's the season for pumpkin pie! A pie delivery adds a little something special to their festivities. Send a pumpkin pie to your loved ones to let them know how grateful you are to have them.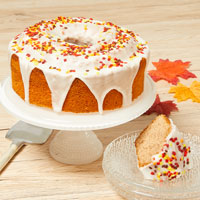 New this year, this rich cinnamon cake is topped with icing and colorful sprinkles. Send this unique Thanksgiving gift to someone you're thankful for.
Check out all of our Thanksgiving gifts available for delivery at https://www.bakemeawish.com/thanksgiving-cakes.php